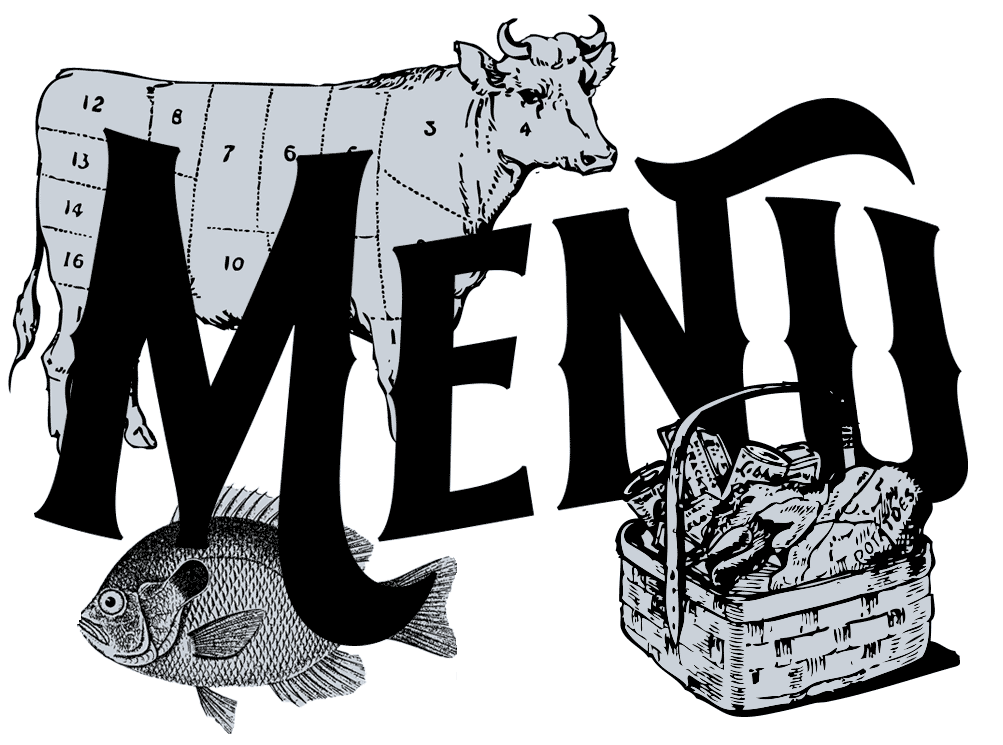 Please note that the menu may vary slightly due to availability of produce.
---
Starters and Light Bites
Smoked Haddock and Spring Onion Fishcakes – £10
Tartare Sauce, Watercress Salad, Pickled Shallots.
Grilled Halloumi and IOW Heritage Tomato Salad – £10 Veggie
Roquette, Watercress, Chilli and Onion Seed Dressing.
Chicken Liver Pate – £7.50
Chutney and Toasted Sourdough.
Vegetable Pakoras – £7.5 Vegan
Coconut, Coriander and Mint Yoghurt.
Local Crab Risotto – £10
Peas, Lemon and Herbs.
---
Mains
Fish and Chips Lighter £8.50/ Main – £16
Battered Market Fish, Minted Pea Purée, Tartare Sauce, Chunky Chips.
Homemade Beef burger – £15
Cheese, Bacon, Parmesan and Black Pepper Mayo, Ketchup, Crispy Onions, Pretzel Bun, Fries.
Spicy Bean and corn Tacos – £15 Veggie/Vegan AOR
Mexican Style Rice, Cheese, Guacamole, Soured Cream, Salsa.
8OZ IOW Sirloin Steak – £26
Confit Shallot, Grilled Plum Tomato, Chunky Chips, Pepper Sauce.
Honey and Mustard Baked Ham, Egg and Chips Lighter – £8.50/ Main £15
Spied Tomato Chutney.
Caesar Salad – £10
Gem Lettuce, Garlic Croutons, Parmesan Cheese, Anchovies, Caesar Dressing
Add Chicken £5 / Add king Prawns £6
Roasted Sweet Potato, Chickpea and Spinach Curry – £16 Vegan
Basmati Rice, Poppadum, Naan Bread, Mango Chutney.
Macaroni Cheese – £14 Veggie
Crispy onions, garlic bread.
---
Ciabatta Rolls
Upgrade Your Crisps to Fries – £2.50
Fish Finger Ciabatta Roll – £10
Tartare Sauce and Lettuce.
Cheese and Pickle Ciabatta Roll – £8 Veggie
Mature Cheddar with Pickle, Gem Lettuce and Tomato.
Honey Roast Ham and Tomato Ciabatta Roll – £9
Gem Lettuce and English Mustard.
All Served with Roquette Salad and Salted Crisps.
---
Little Ones
Chicken Pieces, Fries & Peas – £7
Mini Fish and Chips – £8.50
Macaroni Cheese with Garlic Bread – £8 Veggie
---
Sides
Fries – £4 Vegan
Chunky Chips – £4 Vegan
Battered Onion Rings – £4 Veggie
Roquette Salad, Tomato & Spring Onion, Balsamic Dressing – £4 Veggie
Sauté Greens, Chilli Oil and Sesame Seeds – £4.50 Vegan
---
Puddings
Rhubarb Crème Brulee – £7 Veggie
Shortbread
Sticky Toffee Pudding – £7 Veggie
Vanilla Ice Cream.
Berry Cheesecake Pot – £7 Veggie
Selection of IOW Ice Cream – £2.50 per scoop Vegan
All produce is prepared in an area where allergens are present. For those with allergies, intolerances, and special dietary requirements who may wish to know about the ingredients used, please ask a member of the Management Team.